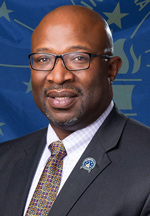 Indiana Senate Democrats Talk Gun Safety – Hamilton County Reporter
Call for special session to pass new gun regulations
On May 27, Indiana Senate Democrats wrote a letter to Governor Eric Holcomb urging him to call a special session to discuss gun safety legislation, in response to the recent mass shooting in a school in Texas.
"For the first time ever, the leading cause of death among children is gun violence," said Senate Democratic Leader Greg Taylor. "This outbreak is unacceptable – especially since we know what can be done to address this heartbreaking statistic: Adopt common sense gun safety rules."
They write about the threat gun violence poses to Indiana children and the general public, citing the mass shootings at FedEx facilities in Indianapolis last year and the shooting in Goshen in May of this year.
"Our caucus isn't calling for anything extreme – we're calling for grassroots measures that the majority of Hoosiers want: universal background checks, gun safety storage requirements, tougher red flag laws, permit and licensing requirements, etc." Taylor said. "These are actions that responsible gun owners support, and we hope to meet again as soon as possible to begin taking action to move these policies forward."
Click here for the full letter to Governor Holcomb.