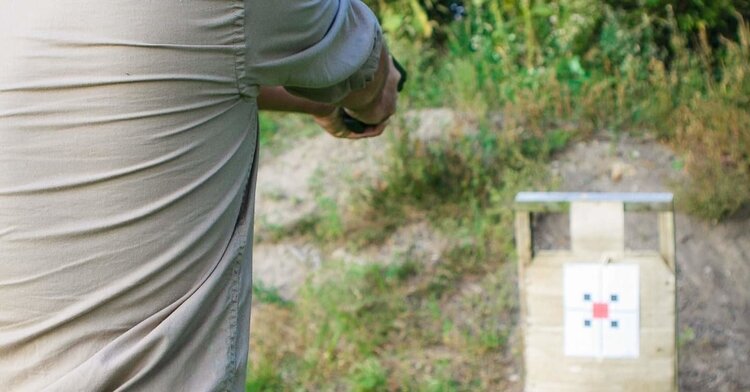 Gun safety isn't just about handling a gun, says Bay City-based firearms instructor
When he's not working as a physiotherapy assistant for the Bay-Arenac ISD, helping children with special needs, Dave Coppler spends the weekends teaching people about safe gun handling.
Coppler is a USCCA (United States Concealed Carry Association) Certified Firearms Instructor, who started Michigan Defensive Concepts in July. He works with people of all ages to ensure that anyone who handles a gun has the training to do so with confidence.
There are many misconceptions about firearms handling that Coppler strives to correct in his weekend classes. His certification course includes five hours of classroom instruction, including a full hour with a Michigan attorney speaking about gun laws.
"You don't have to shoot someone just because someone wants to take your purse," says Coppler, who emphasizes responsibility as well as safety.
After the classroom instruction, there are three additional hours of range instruction.
"I've had people who have taken my course and haven't gotten a CPL (concealed gun license) because they realize there are serious legal ramifications," he says, but whether or not they take their certificate to the county clerk, people are educated and that's important to Coppler.
During his years in the shooting community, whether in competitions or on shooting ranges, Coppler says he met many people who encouraged him to become an instructor.
"They were saying things like, 'You're so good with all these women and kids here.' Then the opportunity arose because the USCCA wanted to expand its footprint and was looking for instructors.
Coppler says the USCCA is a company with similar ideals to the National Rifle Association, but without the political ties.
Teaching gun safety classes was an easy transition for Coppler, who adds that it's not just about carrying a concealed weapon. Since he was a teenager, Coppler says he's dabbled in guns, shot competitively, done gunsmithing and customization work. He says many people take his classes to gain an increased level of awareness and safety, but he also encourages participation in recreational shooting sports to build confidence.
"If you involve children, there are so many shooting sports," he says, including organizations like the International Defense Pistol Association (IDPA), where shooting practice involves self-defense scenarios, or the US Practical Shooting Association (USPSA) with competitions. around a variety of different situations. Coppler says there are also 3-barrel, 2-barrel, steel, and bullseye challenges, for anyone interested in recreational shooting.
"There are so many things you can do that are just paper or steel that don't train for military defense," he says, adding, "it's just skill at the shooting, and it's no different than archery, slingshot, or BB gun, it's just that you use a more explosive projectile.
All of the education and exposure adds up to Coppler's goal of building "a level of trust before you even consider anything like concealed carry, where you would have a gun on you."
Whether it's for recreation or for safety reasons, Coppler says there's no substitute for proper instruction and knowledge of the rules for handling a firearm.
"There are four fundamental rules for anyone handling a firearm," he says. These rules are:
Treat each gun as if it were loaded.
Keep your finger on the trigger until you're ready to fire.
Know your target and what lies beyond that target.
Don't point your gun at anything you don't intend to destroy.
Coppler offers lessons for groups of up to 12 at a time, and his the program is available on his Facebook page. He teaches during the winter months at the Linwood Bay Sportsman's Club on Linwood Road.