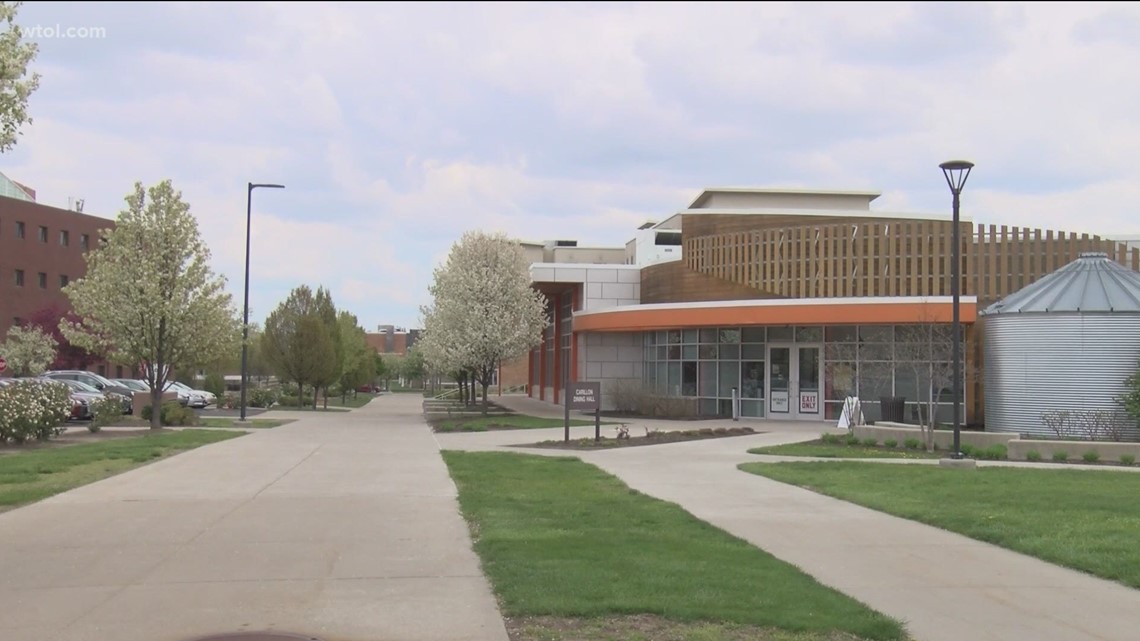 BGSU students demand change in university gun policy
Bowling Green students, alumni and residents have teamed up to craft a call-to-action letter demanding better communication and town hall for their voices to be heard.
BOWLING GREEN, Ohio – A photo circulating on social media Tuesday showed two men carrying guns on the campus of Bowling Green State University. The men were protesting the arrest of another man with a gun on campus which took place on Sunday.
"It was just disgusting that we didn't hear from the university for over an hour and a half, we counted," said Maya Elias, a student at BGSU.
Elias said she believes the university has taken too long to get the word out. BGSU acknowledged the incident in a tweet after the individuals had already left campus.
In Sunday's incident, students were warned to take shelter in place as a man was seen with a gun on campus. Authorities arrested the man and accused him of causing the panic.
RELATED: Suspect in Custody After BGSU Notifies Community of Person with Gun on Campus
Elias is also upset because the tweet from the university said that "today's activity is not illegal". Elias said that while there are no federal or state laws against open transportation without a permit, BGSU has a policy.
"It specifically prohibits the possession of firearms on campus. Obviously you can't hide one, you can't walk around with a gun in your hand," Elias said.
However, late Tuesday evening, BGSU President Rodney Rogers sent an email to the students, which was obtained by WTOL 11. In the email, Rogers explains why the activity was not illegal.
"In response to Sunday's incident, two individuals came to campus this afternoon openly carrying guns to demonstrate their rights under state law, which supersedes BGSU policies. They notified BGSU police in advance of their activity late this morning. While concealing a gun on campus is a violation of our policy and the revised Ohio Code, today's activity 'hui involving open transportation is not illegal. BGSU police monitored their activity on campus to ensure there was no physical threat, and our officers engaged the two individuals in a conversation and an understanding of the law, "read the email.
RELATED: BGSU Issues Statement Following 2nd Campus Gun Incident in Past 3 Days
Rogers encouraged legislative officials to present petitions. "For those who want to see a change in open porterage at state universities, contact your Ohio State Representative or Senator and make your voice heard." He added that physical security had never been compromised and that BGSU police responded to Tuesday's incident, but regretted not letting the campus community know beforehand.
BGSU student Aarian Lynn believes her safety has been threatened. "We don't know what their real intentions were. Was it just a protest or a second amendment right? Did they have an ulterior motive? Everything could change in seconds," Lynn said.
She and other students, alumni and residents of Bowling Green have teamed up to write a call-to-action letter demanding several things, including better communication. To ensure they come to a solution, BGSU student Eishat Ahmed said: "We are calling for a public meeting with BGSU President Rodney Rodgers, with the Sheriff and Campus Deputy and off campus. We would like it to be moderated by citizens and we want our voices to be heard. "
A petition was also formed on Change.org, calling for a change in BGSU gun policy to apply to citizens who are not BGSU students. As of Wednesday evening, the petition had more than 2,300 signatures.
WTOL 11 has contacted BGSU to see if they have any comments regarding the call-to-action letter, but has not received a response.
LEARN MORE ABOUT WTOL 11: