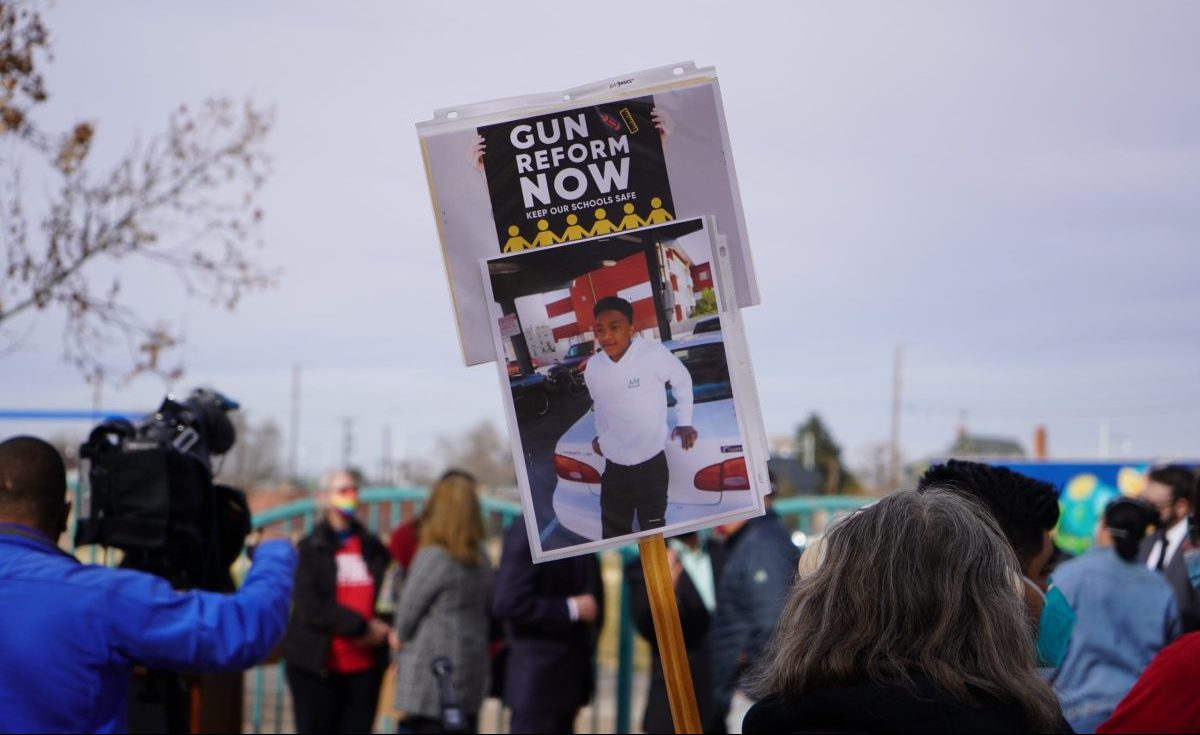 'Bennie Hargrove Gun Safety Act' will push for gun legislation
,
Community activists and state lawmakers, including state Rep. Pamelya Herndon (D-Albuquerque) and state Sen. Daniel Ivey-Soto (D-Albuquerque), gathered outside the Washington Middle on Monday School to support the Bennie Hargrove Gun Safety Act. In August, Hargrove was fatally shot at Washington Middle School by a classmate. Hargrove tried to break up a fight between two of his friends before being shot six times during the altercation. Many believe the shooting could have been avoided if the shooter's family had secured firearms in their household. The bill is co-sponsored by Representatives Debra M. Sariñana (D-Albuquerque) and Patricia Roybal Caballero (D-Albuquerque).
"Common sense gun laws can prevent these types of tragedies. The root cause of gun violence is easy access to guns. Guns must be kept out of the reach of those who shouldn't have them, especially our children. It's the adult thing to do," Regina Griego said. Griego, a Washington Middle School alumnus and grandmother of six, called on the governor to include the Bennie Hargrove Gun Safety Act in the upcoming crime-fighting agenda. Griego has become a vocal advocate for gun laws in the state since losing five members to a 'struggling' family member who gained access to an unsecured gun .
"I am confident that my family members would still be alive today if these firearms were safely stored. No law can stop gun violence, but we can do so much more than we are doing right now," Griego added.
"Bennie Hargrove died because a child gained access to an unsecured firearm – this is unacceptable," said Elaine Miller, a volunteer with the New Mexico chapter of Moms Demand Action. "Unfortunately Bennie's death is not isolated, incidents of shootings on school grounds and unintentional shootings of children are on the rise in our state and across the country. But fortunately they can be avoided by keeping firearms safe. It is more important than ever that the Legislature and Governor Lujan Grisham honor Bennie with action, beginning with the passage of safe storage legislation.
Bernalillo County District Attorney Raul Torrez has come out in favor of including the "Bennie Hargrove Gun Safety Act" in the governor's next crime-fighting agenda. A gun owner himself, Torrez pointed out that the gun safety measure would encourage gun owners in the state to take greater responsibility for their firearms. "While I recognize Americans' Second Amendment right to keep and bear arms, I think it's also appropriate that we talk about accountability. Because it's not just about the rights we have under the constitution, it's about the responsibility we have as responsible gun owners to make sure those guns are not accessible to people with diagnosed mental illness and to people who have criminal records," Torrez said.
"If you own a firearm, you have a responsibility to make sure that weapon is locked up and secured. You have a responsibility to ensure that young people do not have access to it. And with the passing of the Bennie Hargrove Gun Safety Act, if you don't secure those guns, you will be subject to criminal prosecution," Torrez added.
"New Mexico needs to protect its children from the excessive violence that is happening in Albuquerque and across the country. Bennie's family can't sit idly by without showing their support for the Bennie Hargrove Gun Safety Act introduced by State Rep. Pamela Herndon. The Bennie Hargrove Gun Safety Act is being brought to this great state to prevent unnecessary gun violence that used to happen here," said a family friend, speaking on behalf of the Hargrove family who chose not to not be present at the press conference because of the proximity to the college.
Under the law, a gun owner who is involved in illegal activity could be convicted and charged with a fourth degree felony. He could also be fined $1,000. It aims to encourage gun owners to secure their firearms safely and to prevent those who should not have them, especially children, from accessing them.